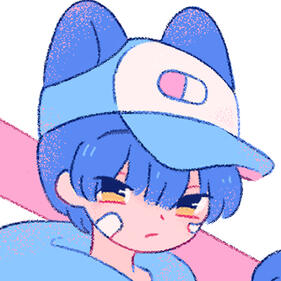 kiigri
25 | he/him | artist | only repost/use
non-commercial w/ credit!
COMMISSION INFO
STATUS:

CLOSED

SLOTS: 1/3
WAITLIST: 2
✦ available in lined or lineless style✦ for multiple characters,
multiply by base price✦ These prices are for personal use only. Please contact me to discuss commercial pricing. Streaming rights are an additional 50%✦ comes with simple decorations or color/pattern background if desired✦ will charge more for complexity (ie. detailed armor, extra bg elements, lack of reference etc.)✦ For now there is no request limit, but I will only work on 3 at once, taking on the next when one slot opens. Filling out the form when slots are full will automatically put you on my waitlist.
COMMISSION PROCESS✦ Submit commission request form.✦ If approved, I will contact you regarding details and any additional pricing.✦ I will send you a Paypal invoice, where
half of payment is required to start work.✦ I will show you a sketch, at which point
2 rounds of corrections are allowed.✦ Approximate turn time of 2-5 weeks.✦ Once I have finished your piece, I will prompt you for the remaining payment.You will receive a Drive link with:
Full Resolution PNG File
Transparent BG PNG File✦ I am happy to do minor corrections
(ie. color or size adjustment) afterwards, but anything more will cost extra
TERMS OF SERVICE✦ I will not start work until at least half of the agreed upon payment is sent, and I will not release the finished piece until full payment is made.✦ Prices are not final and may change due to added work.✦ These terms are for personal use only. You may not profit from the art in any way (sell merch, use in streaming, etc.) Please discuss commercial prices and terms with me beforehand.✦ I retain all rights to my work and am able to use your commission for promotional purposes.✦ Please feel free to edit, crop or resize your commission and use in icons, layouts, rp etc. However you may not alter the art significantly without my approval.✦ Proper linked credit is required when using my art on social media.✦ I have a right to refuse a commission for any reason.✦ You may not use my art for hateful or bigoted purposes or I will rescind your rights to the art immediately if so.✦ You may not use my art for NFTs or blockchain related activities✦ You or I may cancel the commission at any time, but I will not refund your initial deposit if a sketch has already been completed.
PROGRESS
| Client | Type | Phase |
| --- | --- | --- |
| Nile | Full Body Design | Final draft |